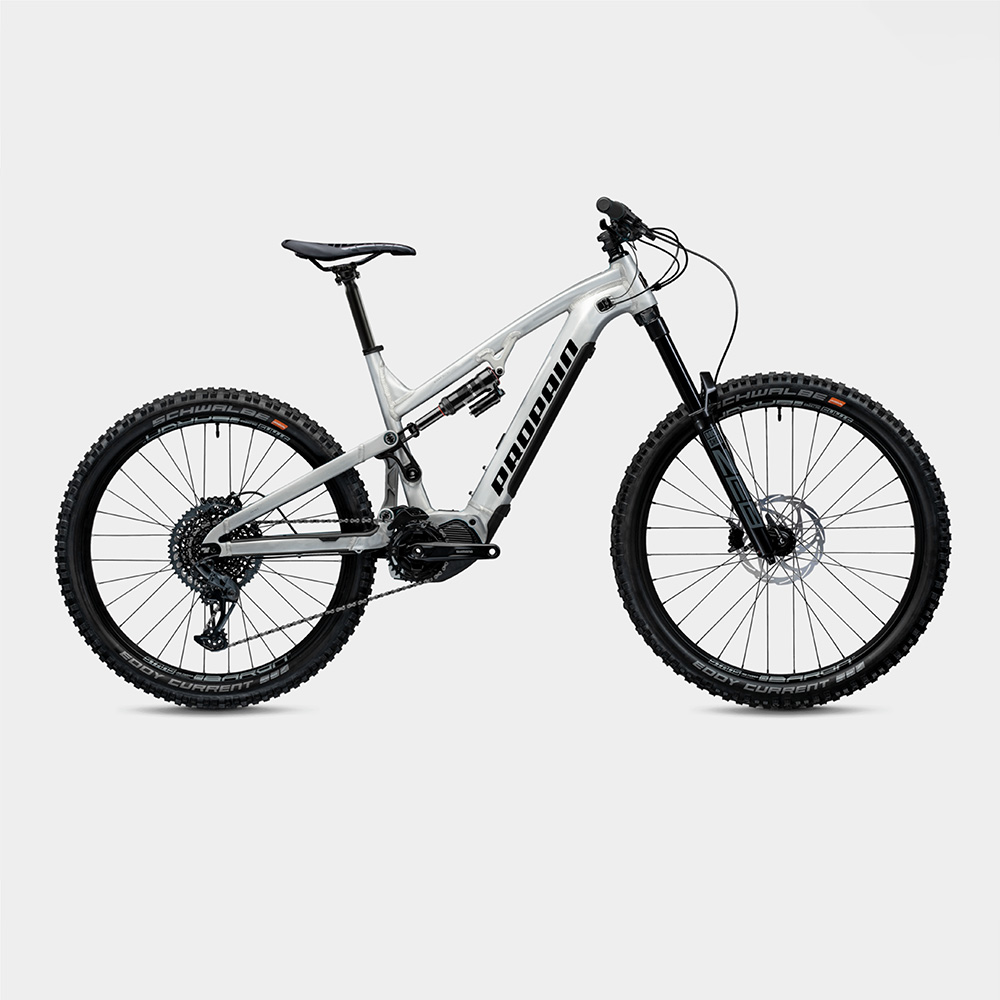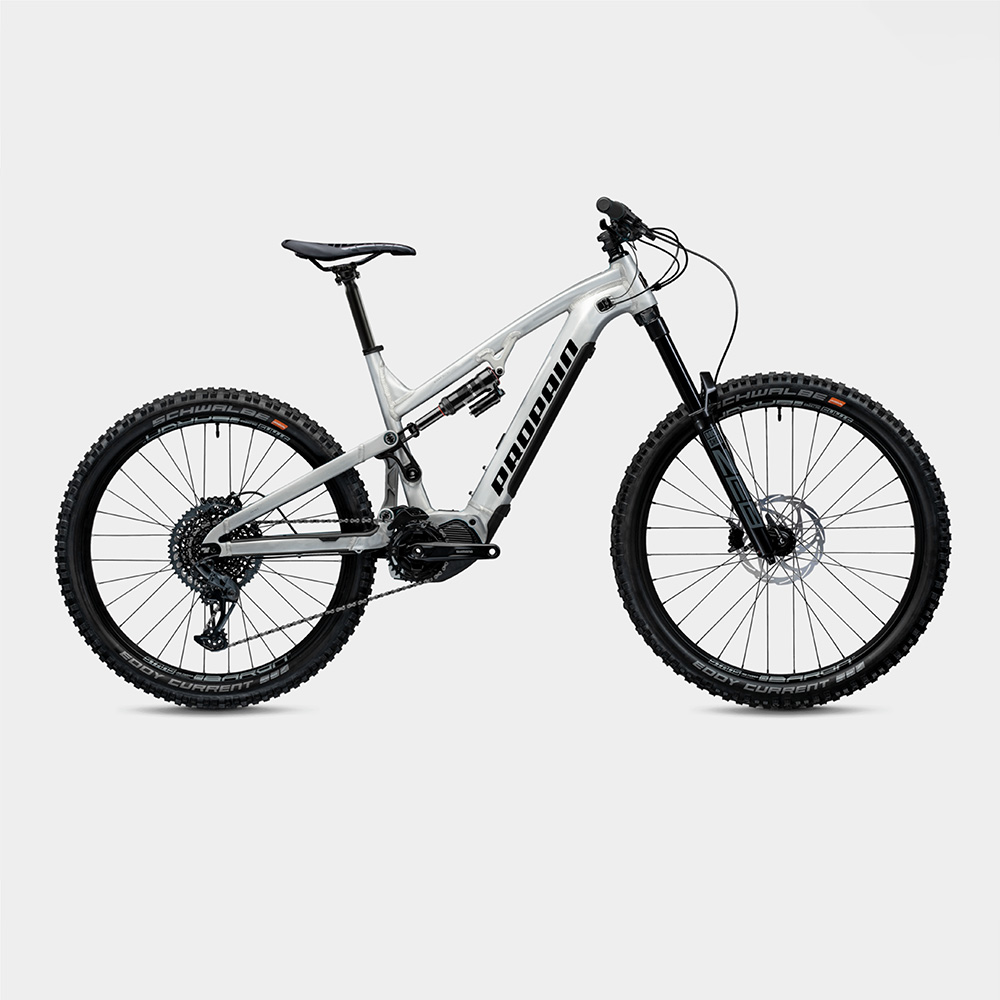 | Monday | Tuesday | Wednesday | Thursday | Friday | Saturday | Sunday |
| --- | --- | --- | --- | --- | --- | --- |
| | | | | | | |
| 1 day | 2 days | 3 days | 4 days | 5 days | 6 days | 7 days |
| --- | --- | --- | --- | --- | --- | --- |
| | | | | | | |
| 8 days | 9 days | 10 days | 11 days | 12 days | 13 days | 14 days |
| --- | --- | --- | --- | --- | --- | --- |
| | | | | | | |
Propain Ekano 165mm E-MTB Enduro + helmet
Rent your dream enduro from us in Lenggries or Munich. Whether it's an adventure tour or bike park action - your Propain Ekano offers you the performance you need in any terrain.
Once the power button is pressed, nothing stands in the way of fun and adventure.
Performs uphill as well as downhill
Thanks to the combination of a steep seat angle, moderately long reach and chainstays and a flat steering angle, the frame of the Ekano manages this balancing act without any problems. On the trails, these features ensure agile handling, which is enhanced by the powerful support of the Shimano EP8 for a completely new riding experience.
Lighter and more efficient thanks to Shimano EP8
The advantages are clearly reflected: The quieter and lighter 85 Nm motor gives the impression of riding a classic bike through easy and efficient pedalling. Thanks to the optimised software, the motor delivers the right power at the right time. The Shimano E-TUBE app also offers a large number of adjustment options and can even be adjusted "on tour". On the trail, the Shimano EP8 offers three support levels: Eco, Trail and Boost.
Sophisticated details
The Ekano also impresses with its inner values and smart detail solutions. With quick-change chainstay protectors, a tidy cockpit and internal cable routing, you spend more time on the bike than in the workshop.
Clean & Modern
Many small details make the Ekano a real eye-catcher. The tidy cockpit not only ensures clarity, but also ease of use. The newly developed Ekano logo shows the direction: always forward!
Chain stay & motor protector
To protect the motor and down tube against stone impacts and your frame against paint damage caused by chain jumping, your Ekano comes standard with the motor and chain stay protector. This absorbs vibrations from the chain and protects the strut from damage. In addition, the down tube and motor are optimally protected from damage, dirt and other contaminants by a cover.
M

L

XL

Suitable for body height

160 - 182cm

Suitable for body size

178 - 192cm

Suitable for body height

188 - 202cm
Ekano AL 29, MY21
Motor Shimano EP8 Drive Unit
Suspension fork RockShox ZEB R 29″ 170mm MY21
Shock RockShox Super Deluxe Air Select+ RT 230/65 MY21 Ekano
Seatpost KindShock LEV SI 150mm
Brake Set Formula Cura 4 203/203
Rims Stan's NoTubes ZTR Baron S1 eSpec LRS 29
Schwalbe Eddy Current 29″ tyre set
E-bike rental Lenggries:
Isarstraße 2, 83661 Lenggries
Can I reserve the bike first without obligation?
Sure! Please contact us and we will take care of your non-binding reservation until 2 weeks before the date.
What is part of the equipment and what do I have to bring myself?
Provided by us:
Propain Ekano E-Bike
Helmet - size adjustable
Adjustment of the bike to the rider's weight
Introduction to the technique
Optional:
Spare battery with charger
What do I need to bring ?
Depending on the tour, protectors
Sports glasses
Backpack
Clothing suitable for the weather and the tour
Public access and parking
The train station Lenggries is a 2-minute walk from our camp. Parking is available in front of the Isar Stadium opposite our camp.
Handover of the bikes takes place at our camp in Lenggries .
Do we need any prior knowledge?
You will receive a detailed introduction to e-bikes on site, but you should have solid riding skills.
Are there any refreshment stops after the BikeTour?
Yes, in Lenggries there are rustic and hearty inns, beer gardens and restaurants. When the weather is nice, the within walking distance Village tavern highly recommended.
In addition, you are welcome to enjoy a cold beer with us at the camp.
1 rating for
E-Bike Rental
Lenggries
Placeholder for reviews for E-Bike Rental Lenggries...