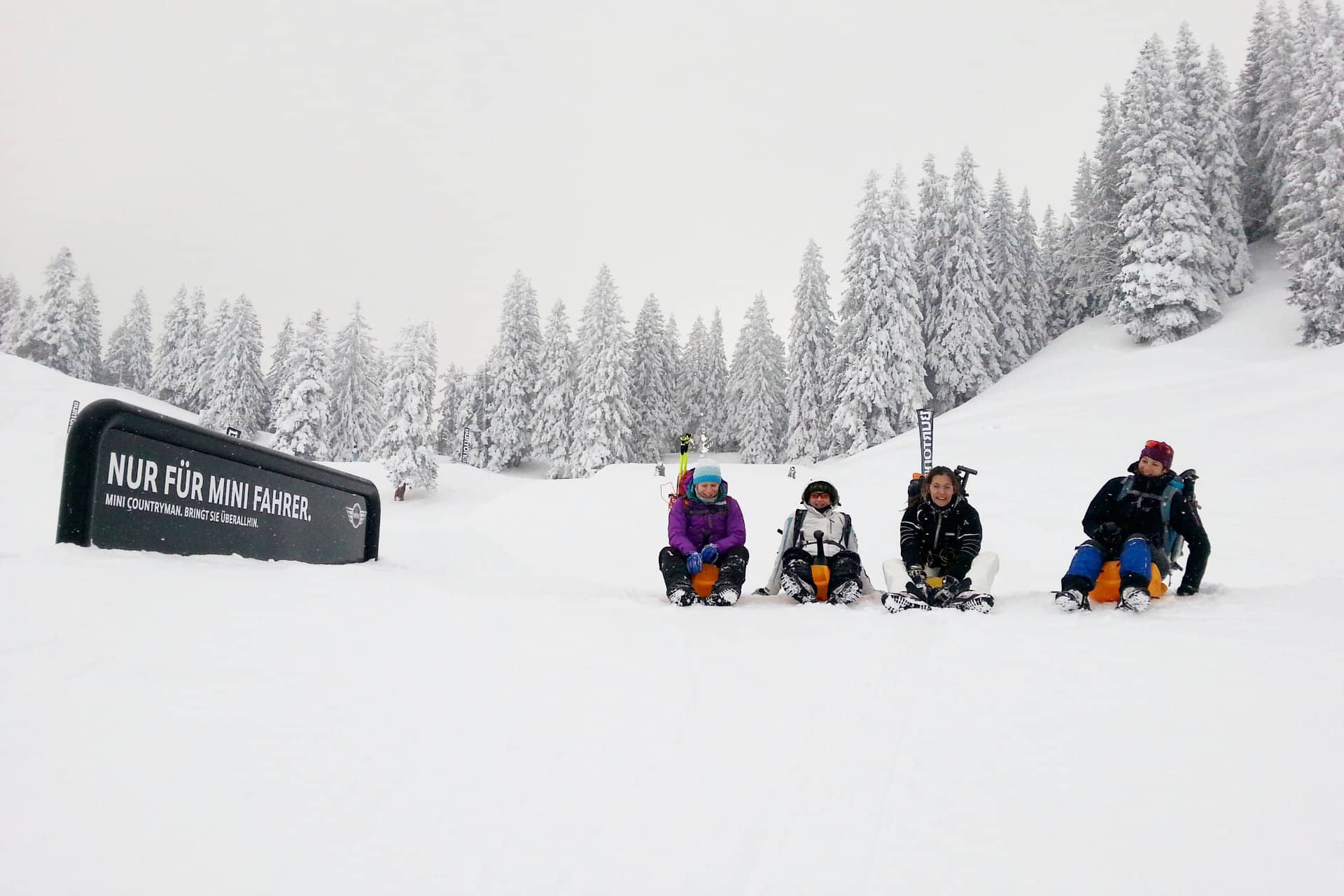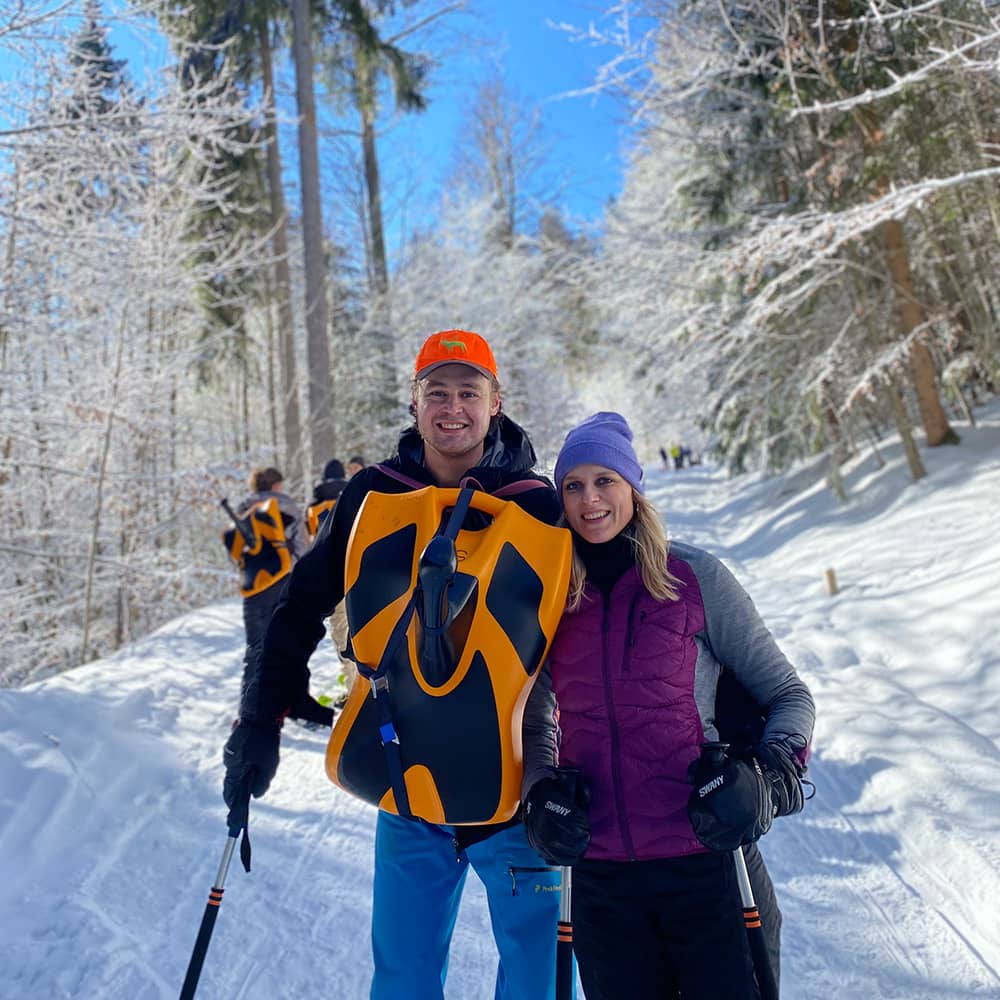 approx. 6 hrs. incl. break
From 10 years accompanied by an adult
By train (BRB) or car. Paid parking (10,-€) available
6 to 12 participants per guide. Bookable for individuals and groups
Medium hike with about 600hm
Welcome of the participants at the car park Fischhausen-Neuhaus station
09:15h / 10:15h
Issue of material, instruction
Start snowshoe tour with Zipflbob
Lunch together in the Obere Firstalm or in the Bodenschneidhaus
approx. 12:30h / 13:30h
Descent on Zipflbobs into the valley to the starting point
End of the tour, farewell
approx. 14:30h / 15:30h
The Schliersee region offers the perfect conditions for your snowshoe tour with Zipflbob descent.
You meet with your snowshoe guide and are first handed the equipment. After a short safety briefing, you strap on your snowshoes, attach the Zipflbob to your backpack, take the poles in your hand and make your way through the powder snow.off the beaten path, you make your way up to a small alpine pasture. Here we'll take a short break, where you can fortify yourself with the snack you've brought along.
Afterwards, we climb up to the preliminary destination of our snowshoe tour with Zipflbob: the Bodenschneidhaus. The innkeepers will be waiting for you at the hut with hearty, home-style cooking. There you can enjoy the view, the company, the warmth and the food. But the highlight of the tour is yet to come:
On your Zipflbobs, you'll make a rapid descent along the winding supply road into the valley. Which of you will be the fastest?
Contact us and we will plan a wonderful trip with you. Our team is looking forward to meeting you!
Snowshoe hike approx. 5 hours + time for lunch break
Zipflbob run
Guided tour by professional tour guide
Equipment: snowshoes, poles and Zipflbob
Minimum age 10 years
Persons under 18 years of age only in the company of a parent or guardian or with a written declaration of consent. DOWNLOAD 
normal physical condition, no heart or cardiovascular problems
breathable winter clothing

solid footwear (mountain boots), possibly gaiters
Backpack (approx. 30L)
Gloves, cap, sports glasses, sun protection
Ski goggles for Zipflbob descent
Snack, thermos flask with tea or water (min. 1 litre p.p.), power bar (at your own discretion)
normal physical condition, no heart or cardiovascular problems
The snowshoe tour with Zipflbob descent will take place if the minimum number of participants is 6. Otherwise an alternative date must be arranged.
The meeting point in Neuhaus am Schliersee can be reached with the Bayerische Oberlandbahn (BOB).
Paid parking spaces are available.
Car park Fischhausen-Neuhaus railway station (not Schliersee town).
Wendelsteinstrasse, 83727 Neuhaus am Schliersee.
24 reviews for
Snowshoe tour + Zipflbob
Super day due to very good organisation.
We liked everything... There were no problems at all with the booking. I would definitely recommend this offer, especially to those who enjoy hiking and nature and would like to try hiking with snowshoes.
I think that especially young people (under 30) will enjoy the Zipfbob downhill.

Everything worked out great and was uncomplicated. Leo was in a great mood and very attentive. He paid attention to everyone and took enough breaks. Super fun! Thank you!

We were lucky that there was fresh snow the night before. Really nice tour through a
beautiful winter landscape. Absolutely recommended.
Tour guide Steffi did a great job!