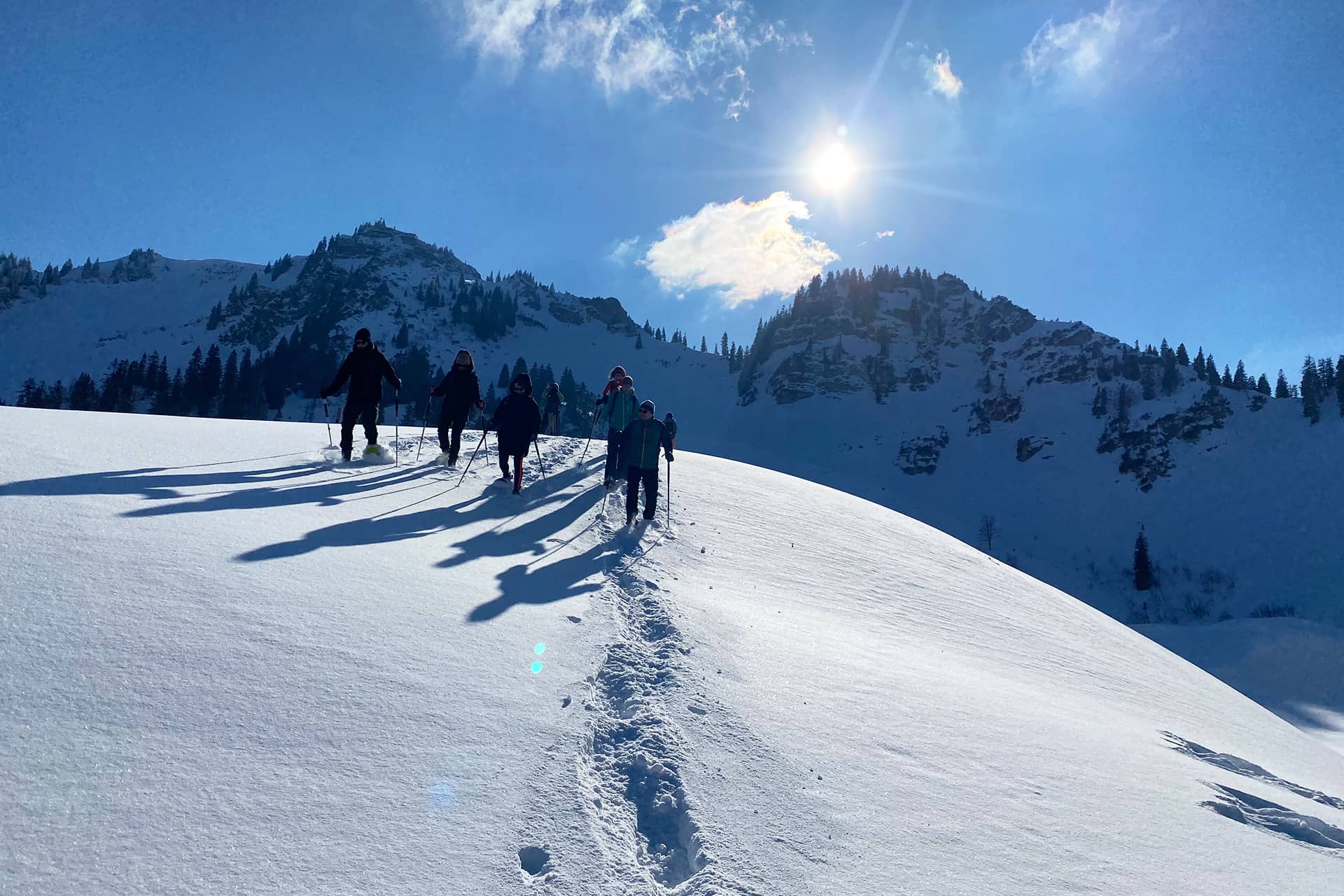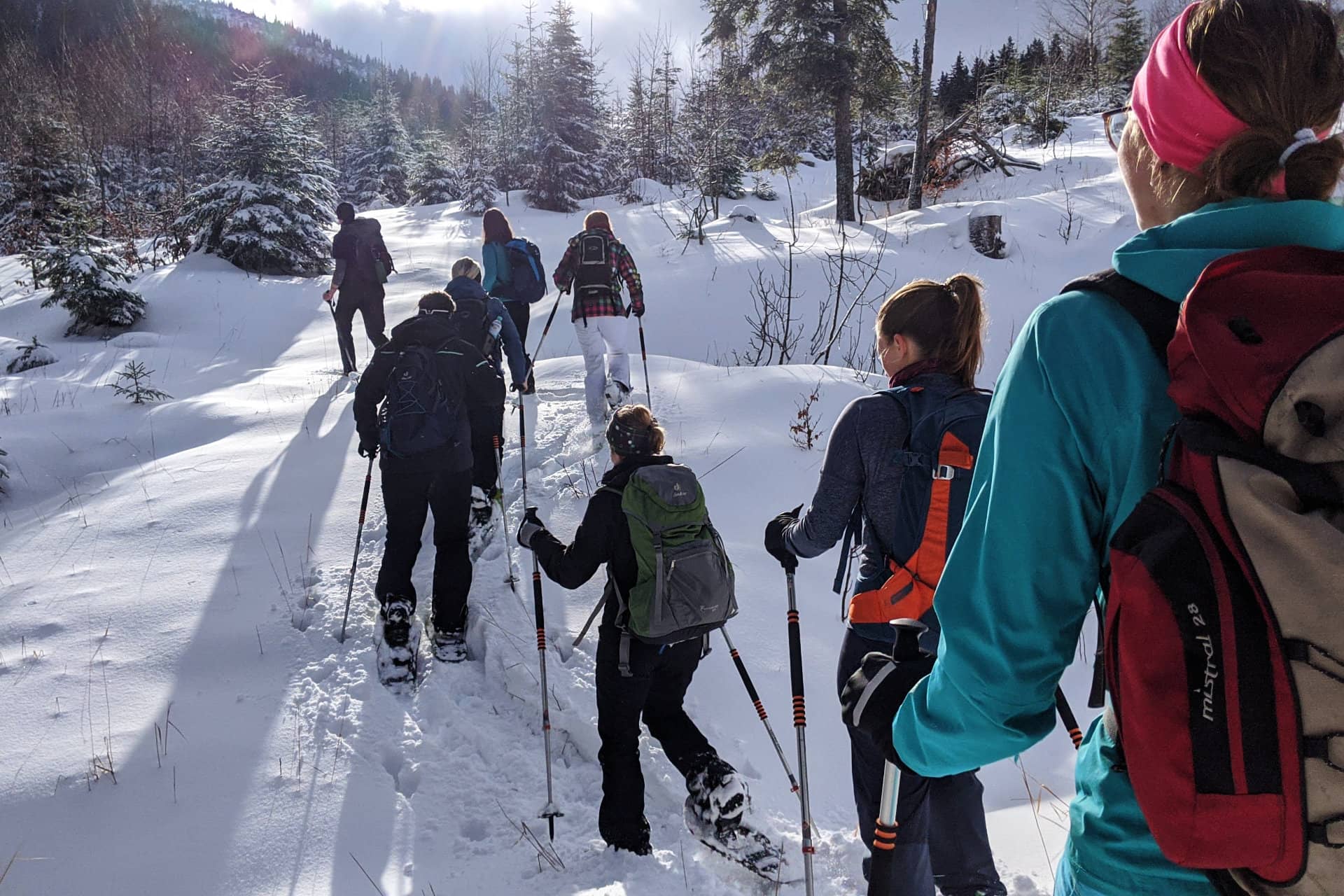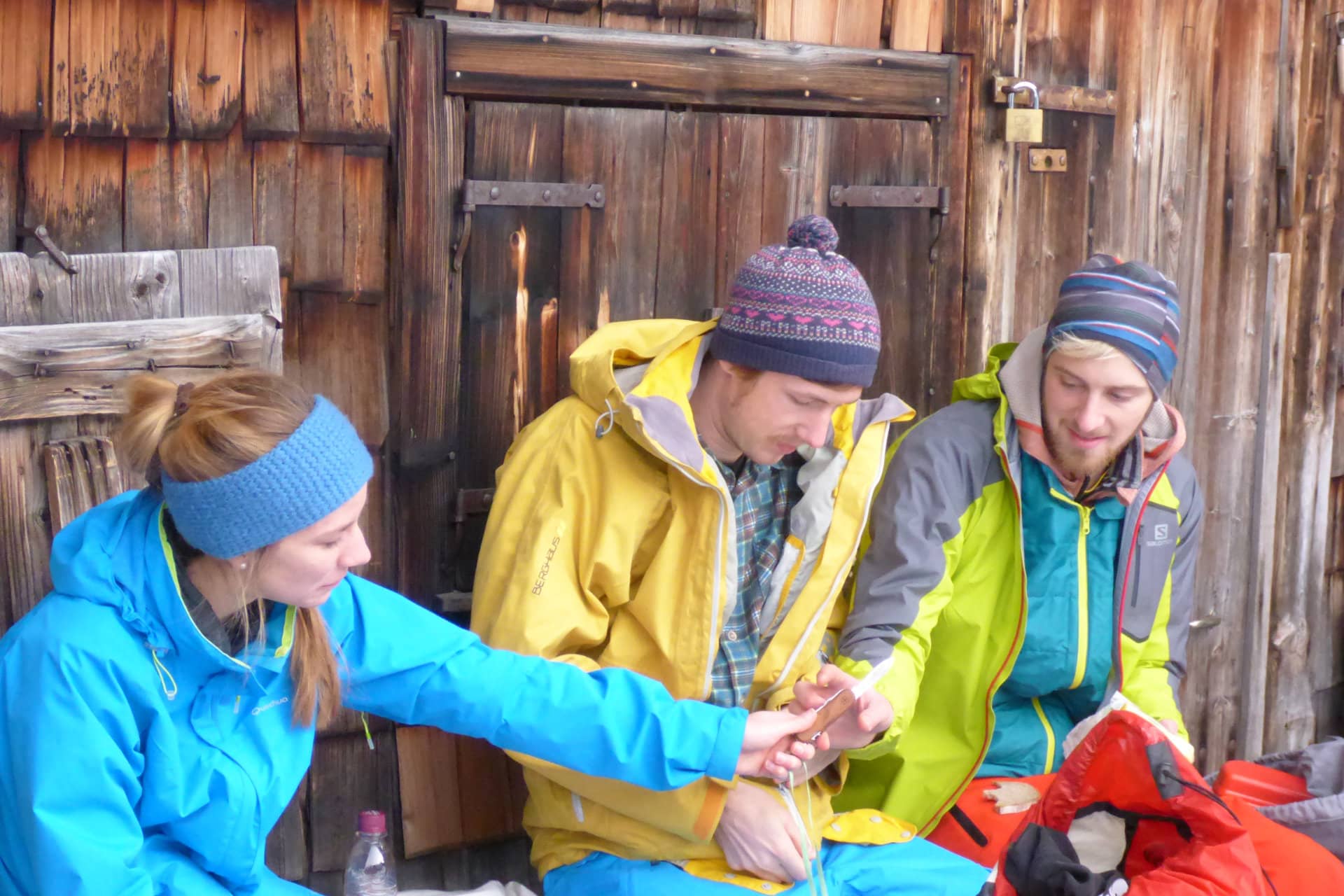 approx. 6 hrs. incl. break
From 10 years accompanied by an adult
By train (BRB) or car. Paid parking (10,-€) available
6 to 12 participants per guide. Bookable for individuals and groups
Medium hike with about 600hm
"Explore the wilderness, conquer the heights, test your limits. Let the adventure begin!"
Glittering, untouched snow, clear air and bright sunshine - this is what your romantic snowshoe tour Schliersee could look like. Strap on your snowshoes, take your poles in hand and trace your own path through the powdery snow. You go on the snowshoe tour Schliersee under the expert guidance of your guide and learn all kinds of interesting facts about the region.
Away from the crowded ski slopes and tourist areas, you will discover the beauty of the winter Bavarian Alps. The region of Spitzingsee or Schliersee offers everything that makes your snowshoe tour Schliersee an unforgettable experience. During the hike, you have a wide view of the Alpine foothills with its deep blue lakes in the foreground - in good visibility, the Karwendel also presents itself in the distance.
Depending on your mood, there is the possibility to have a warming tea and a small snack in the shelter of a cozy hut during the ascent.
Once at the top, we will take a break in the Bodenschneidhaus or in the Obere Firstalm. Here you will be spoiled by the hut hosts with a delicious lunch. Before we start the descent of our snowshoe tour Schliersee, you should capture the fantastic panorama and shoot some souvenir photos.
This snowshoe tour Schliersee is something for the whole family, here is something for everyone! A sustainable and responsible approach to nature is very close to our hearts. You are also welcome to take the train with your group to the meeting point. Contact us and we will plan your wonderful excursion with you. Our team is looking forward to meeting you!
Snowshoe hike approx. 5 hours + lunch break
Guided tour by professional tour guide
Equipment: snowshoes and poles
Minimum age 10 years
Persons under 18 years of age only in the company of a parent or guardian or with a written declaration of consent. DOWNLOAD
normal physical condition, no heart or cardiovascular problems
breathable winter clothing
solid footwear (mountain boots), possibly gaiters
Backpack (approx. 30L)
Gloves, cap, sports glasses, sun protection
Snack, thermos flask with tea or water (min. 1 litre p.p.), power bar (at your own discretion)
normal physical condition, no heart or cardiovascular problems
The Schliersee snowshoe tour will take place if the minimum number of participants is 6. Otherwise an alternative date must be arranged.
The meeting point in Neuhaus am Schliersee can be reached with the Bayerische Oberlandbahn (BOB).
Paid parking spaces are available.
Car park Fischhausen-Neuhaus railway station (not Schliersee town).
Wendelsteinstrasse, 83727 Neuhaus am Schliersee.
Our snowshoe tour at Schliersee offers you the opportunity to enjoy the impressive view of the surrounding mountains and the picturesque Spitzingsee while you are doing some sports. There are three routes to choose from, ranging from an easy family excursion to a challenging hike. A guided tour is recommended to discover the best routes and sights of the region. Overall, the Schliersee snowshoe tour offers an unforgettable experience for nature lovers.
Sure! Please contact us and we will take care of your non-binding reservation until 2 weeks before the date.
Lack of snow, snowstorm, too high avalanche danger can be reasons for a cancellation. We inform our participants as soon as it is foreseeable whether the tour can be carried out as planned. Usually it is 4 days before the date.
No, the tickets and vouchers remain valid. In case of cancellation an alternative date will be arranged.
Yes! As long as you book under the same name, you will be assigned to the same group.
For bookings with different names, feel free to let us know.
There is a maximum of 12 guests per guide.
If we have several groups for the same time, the guides decide on site whether the groups go together or separately.
The minimum number of participants is 6.
Provided:
1 pair of snowshoes (size adjustable)
1 pair of sticks (size adjustable)
What do I have to bring myself ?
Waterproof and breathable winter clothing (incl. hat, gloves and waterproof, ankle-high mountain boots)
optional ski or touring pants with snow skirt or gaiters
Food and thermos flask, power bars, etc. for snacks on the way
Cash for the Hut
Sunscreen and sunglasses
And the most important: drink, at least 1 liter per person
If you come with brand new walking shoes, you might as well take the blister plasters with you 😉
With the BOB/BRB from stops Hbf or Harras. The BRB is later split into 3 train sections. Make sure you get on the right part of the train to Bayrischzell. You get off at Fischhausen Neuhaus (not Schliersee).
There is paid parking directly at Fischhausen-Neuhaus station.
You can easily do a 4-hour mountain hike in summer? Then you've come to the right place! Are you looking for something easier? Check out our
family tour at Spitzingse
The tour is suitable for snowshoe tour newcomers 😉 However, you should bring a solid level of fitness.
Everything is locked in our own car, or can be locked in our vehicle.
41 reviews for
Snowshoe tour Schliersee
We were out and about on Shrove Tuesday. The weather was really nice and it was relatively warm. The tour was very well organised, we were 10 people (2 children) and we had 2 guides with us. Yes, it was exhausting (don't make the mistake like me and dress too warm) but we just took several breaks. The tour went through a forest, free snow-covered areas, it was just dreamlike. Then the groups split up, some bobbed down the valley, we walked. Thanks again for this beautiful day, love to our fluffy companion Vera!

We had a wonderful tour at the weekend under clear skies. Our guide Leo gave us a friendly welcome and briefing at the car park (parking fees now €10, only payable with coins or app), then we went up to the Bodenschneidhaus with snowshoes and a Zipfelbob in our luggage. After a long break and a delicious meal, we quickly returned to the valley on the bob. Super tour with a nice and competent guide. Highly recommended!

Tour absolutely recommendable.