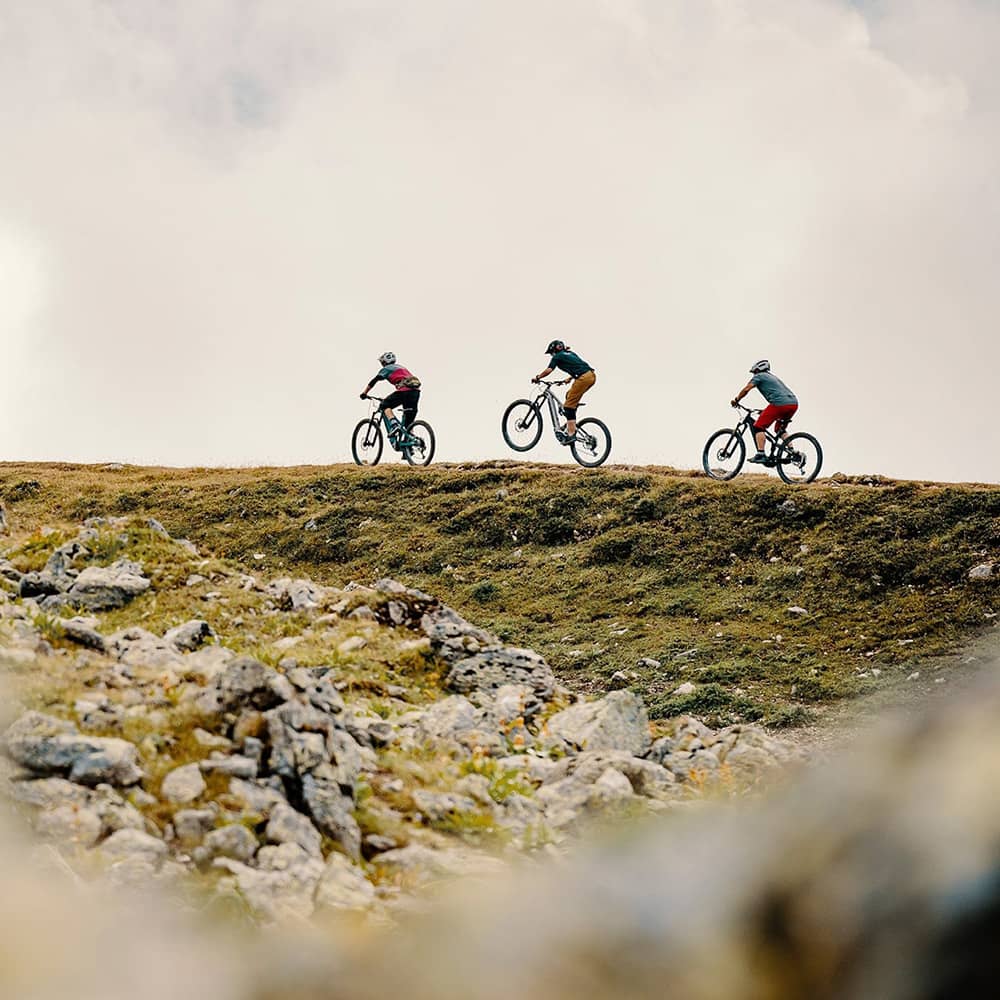 Guided e-bike tour
01. May - 15 October
4 hours total time incl. briefing
From 12 years, min. 160 cm body height
Weather-independent, except during heavy thunderstorms
Car, train or bus. Train station 3 min. from the camp
The team event is suitable for groups of 4 - 10 participants
Journey - gladly also organized by us
Welcome of the participants at Sport-Piraten Camp
09:00h / 14:00h
Issue of material, detailed instruction
Start Team Event E-Bike Tour
approx. 09:30h / 14:30h
If required, light refreshment at the mountain hut
Change of clothes and farewell
approx. 13:00h / 18:00h
Open end, return journey gladly also organized by us
You want to try e-mountain biking this year, but first you want to learn how to use this ingenious piece of sports equipment properly?
Then we have the dream duo for you:
With the Propain Ekano 165mm E-MTB Enduro and one of our guides, you get the full load of experience and one of the best e-mountain bikes of the season.
After we've welcomed you to the camp, we'll get you started straight away. You will be given a suitable E-MTB and of course a helmet. On site, we show you briefly what you should pay attention to when riding uphill and what the difference is to a normal bike.
But it won't take too long, because we're all fired up for biking. And as we all know, practice makes perfect. On the way to the mountain we start directly with a small e-bike tour workshop:
Brake training on gravel, the right riding position, how do I shift on the mountain without breaking the chain, how do I get safely back down, cornering technique, what to look out for in nature, what makes good material ... and much more.
On well drivable forest road we screw good 700hm up to the Lenggrieser hut. Along the way you can admire the beautiful view of the Karwendel. If it's too steep for you, just press the power button.
Once we reached the top, we deserved a good snack with a fantastic view of the mountains.
Strengthened and full of energy, it can now go to the descent of the e-bike tour. How fast you are back down is up to you. You want a little more challenge and want to try yourself on real trails with small obstacles? No problem, our guides will adapt to your wishes.
You already have some experience or want to try a different route? We will also be happy to come to your desired location with the e-bikes. Feel free to contact us!
Life is simple: Eat. Sleep. Bike. Repeat. 🚲
Guided

e-bike tour

for beginners
Supervision by mountain bike guide
Equipment: E-MTB Propain Ekano, helmet
Total duration approx. 4 hrs.
Times may vary slightly due to group size, experience of participants and weather.
lots of fun
Minimum age 12 years
Persons under 18 years of age only in the company of a parent or guardian or with a written declaration of consent. DOWNLOAD 
normal physical condition, no heart or cardiovascular problems
max. permissible body weight = 120kg
For safety reasons, persons under the influence of alcohol are not allowed to take part in the tour!
Comfortable sports shoes with a firm sole
Functional clothing adapted to the weather
Small backpack
Spectacle strap if required
Sun cream
The guided e-bike tour will take place if the minimum number of participants is 4. Otherwise an alternative date must be arranged.
Sport-Piraten Camp, Isarstraße 2, 83661 Lenggries
Why the team event E-Bike Tour?
Our guided team event e-bike tour is perfect as a fun, sporty team building activity as it provides an active and fun way, to spend time with colleagues, be active together and enjoy nature and togetherness. Also, the team event e-bike tour offers the chance to focus on common goals, to promote communication and cooperation and to increase motivation in the team.
On our e-bike tour, employees learn everything about mountain biking as a sport. They also learn the best riding techniques to get up a mountain easily and relaxed, as well as to take the downhill again with a good safe feeling. Our experienced instructor will lead all teammates on one of our pre-determined routes (beginner, experienced/re-beginner, advanced) through the mountain landscape, after the most important tricks have been discussed and practiced with them in advance at the camp. Also during the tour, all will receive assistance on how to use the e-mountain bike safely and effectively in various conditions (e.g. gravel, roots, etc.). (eg gravel, roots, curves, steps, steep slopes downhill and uphill) is to use.
In addition, the e-support helps to ensure that participants* with different fitness levels and experience can also take part in the tour, which improves the dynamics and composition of the team. Our experienced instructor can lead the team through the tour and ensure that all participants are safe and successful.
So a guided e-bike tour as a team event offers a combination of sporting challenge, relaxation and team spirit, which will contribute to a positive and productive working atmosphere!
tent
Does the e-bike tour take place in all weathers?
Most tours take place as planned. Safety has absolute priority. Sometimes it is only possible to predict at very short notice (1 to 2 days) before the tour whether the circumstances are suitable for the tour. As soon as we are sure whether the tour can take place (or not), we will let you know! 
How big are the groups? What is the minimum number of participants?
There is a maximum of 10 participants per guide. The minimum number of participants is 4.
What is part of the equipment and what do I have to bring myself?
Provided by us:
E-MTB Enduro, Propain Ekano
Helmet
What do I need to bring ?
Functional clothing adapted to the weather
Sports shoes with a firm sole
Small backpack for a change of clothes, snack, etc.
optional: elbow and knee pads, gloves
Public access and parking
The meeting point is our camp in Lenggries. 2 minutes walk from the train station Lenggries . The welcome & briefing will take place there.
Do we need any prior knowledge?
You should be able to ride a bike. 
The e-bike tour is otherwise suitable for absolute MTB novices 
2 cold water showers are available.
What happens to my belongings during the tour?
Valuables and a change of clothes can be deposited with us at the camp.
Are there any refreshment stops after the e-bike tour?
Yes, in Lenggries there are rustic and hearty inns, beer gardens and restaurants. When the weather is nice, the within walking distance Village tavern (Wednesday and Thursday day off) for example very recommendable. You are also welcome to treat yourself to a cold beer at our camp. 
1 Evaluation for
Team Event E-Bike Tour
Placeholder for ratings...